Punta Cana Attractions 2022
In this article we are trying to sum up all main Punta Cana Attractions. Discover the TOP things to do with Us!
Geography and Climate
Punta Cana is a resort town within the Punta Cana-Bávaro-Veron-Macao municipal district, in the municipality of Higüey, in La Altagracia Province, the easternmost province of the Dominican Republic. The area has beaches and balnearios which face both the Caribbean Sea and the Atlantic Ocean, and it is a tourist destination. The weather is hot and humid, especially in late summer and autumn when the Northern Tropics receive their most direct sunlight.
The Punta Cana area has an estimated population of 50,000, with an annual growth rate of 6% as of 2009. To the north, it borders the village and beach of Cabeza de Toro, and the Bávaro and El Cortecito beaches. The nearest city, the 500-year-old Higüey, is 45 kilometres (28 mi) away, which takes about an hour to reach by car. European entrepreneurs, particularly Spanish hotel chains, own all but two of the over 50 megaresorts at the Punta Cana tourism destination.
The province's 100-kilometre (62 mi) coastline tends to be mildly windy. The ocean waters are mainly shallows, with several natural marine pools in which visitors can bathe without danger. From north to south, the main beaches are Uvero Alto, Macao, Arena Gorda, Bávaro, El Cortecito, Las Corales, and Cabeza de Toro, all north of the cape; and Cabo Engaño, Punta Cana, and Juanillo south of the cape.
Bávaro is the area starting from Cabeza de Toro until Macao Beach. As the hotels started to rise along the east coast, Bavaro itself became a center of services with shopping malls, fast-food stores, drug stores, fine restaurants, banks, clinics, workshops, supermarkets, and schools. The major town in the district is Veron, now bigger than Higüey in territory, a spontaneous – and poor – urban development running along the original road from the west.
Verón, last name of the French proprietor of a timberline business in the early 1930s, is now the base-city for hotel workers and related. It has, besides Bávaro, one of only four gas stations in Punta Cana: the next one is located 48 kilometres (30 mi) west in Higüey, at the Fruisa crossroads; a new Texaco gas station opened in April 2010, 3 kilometres (1.9 mi) south of Macao beach; and the new Shell gas station close to the airport (on the highway Coral) opened at the end of 2010 [Source].
Saona Island
Saona Island (Spanish: Isla Saona) is a tropical island located a short distance from the mainland on the south-east tip of the Dominican Republic. It is a government protected nature reserve and is part of Parque Nacional Cotubanamá. It is a popular destination for tourists from all over the Dominican Republic, who arrive in fleets of catamarans and small motorboats on organized excursions every day.
The Island is known for its beaches, and has been used on a number of occasions by film-makers and advertisers looking for a stereotypical "deserted island" setting for their film or product. It is promoted amongst European visitors as the setting for the Bounty chocolate bar advert.
As one of the most visited location in the Dominican Republic, Saona offers visitors a unique variety of things to do from sunbathing in turquoise beaches to more adventurous activities such as snorkeling. Below is a list of some of the popular Activities in Saona Island.
1. Explore one of the Many Stunning Beaches
Beach lovers will feel right at home at Saona Island. One of the best way to spend your day on the island is to explore the many beaches on the island. In your adventure you'll see local vendors selling tropical arts and fresh pina coladas.
2. Snorkeling in Cotumbanama National Park
As part of the Cotumbana National Park, it is no surprise that snorkeling is one of the popular activities on a Saona Island Excursion. The corals reefs on the Caribbean are brimming with colorful fish.
3. Scuba Diving Saona Island
For underwater enthusiasts one of the best way to see the underwater beauty of Saona Island is by exploring the coral reefs. Divers will find an impressive system of coral fauna and wrecks that abound with fish [Source].
Samana
Jutting out of the DR's northeastern shore and basking in the ocean, the nature haven that is the Samaná Peninsula is as coveted today as it was in the 16th century. Pirates hid in its lush, palm-filled forests, isolated beaches, and hidden caves, while European and Haitian troops competed over its deep water, protected bay.
Today, Samaná – often abbreviated to refer to the entire peninsula – is well connected by land and air, yet it remains the DR's secluded, paradisiacal escape of wild beaches, coconut plantations, and rainforests. Its rolling mountains and valleys form the crystalline rivers that feed into the Atlantic, as they cascade toward brilliant white sand beaches stretching hundreds of kilometers all around the peninsula's rocky coastline.
It's as if the approximately 2,500 humpback whales that visit Samaná Bay every year appreciate this natural splendor as much as visitors do. The giant mammals return every year to this special corner of the DR to mate, birth, and bask in this glorious tropical scenery. Aside from seasonal whale watching boat excursions in Samaná's scenic bay, more ecotourism adventures are a stone's throw away: body-boarding and kitesurfing in Las Terrenas; trekking, birding, and caving in Los Haitises National Park; canyoning or horseback riding to reach El Limón waterfall; and boat-hopping to magnificent white sand beaches at the base of 90-meter (300-feet) cliffs, or to offshore Cayo Levantado island [Source].
Isla Catalina
Catalina Island or Isla Catalina is a tropical island located 1.5 miles from the mainland on the south-east corner of the Dominican Republic, near La Altagracia and La Romana. It is an occasional destination for cruise ships on Caribbean routes. In particular, Costa Cruises has a private beach on the island. Their ships anchor offshore and transport passengers to shore via tender.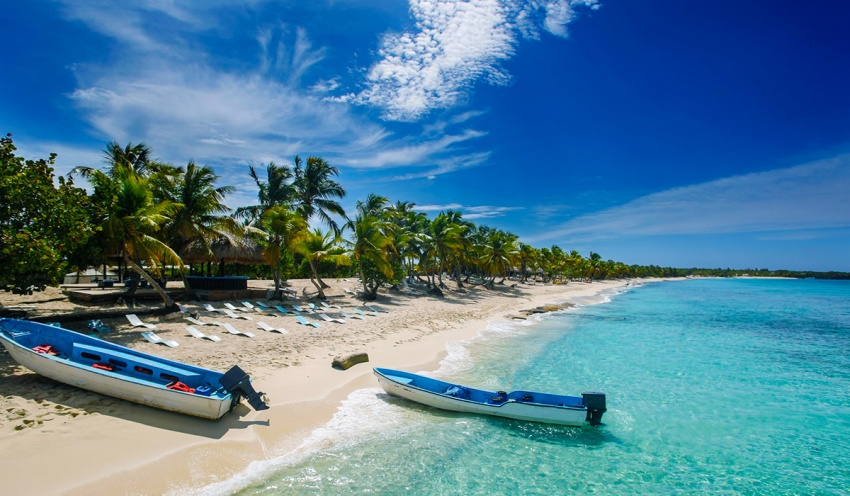 The island itself is only 9.6 square kilometers in size, and is a diverse preservation of eco-systems including sand dunes, mangroves, and reefs. Formed out of coral stone, the island contains three overlapping plateaus. The highest elevation on the island is only 60 feet above sea level. The seas around the Island are rich in wildlife, with many species of birds and tropical marine fish, and there are large areas where natural sandbars offshore bring the depth to just a few feet.
The island is a popular destination. There are daily ships traveling to Catalina from La Romana. The Catalina island beach has white fine sand and nice looking crystal clear water. The sea has corals very close to the shore which attract people for spending their leisure time on the sun beds and snorkeling.
Catalina Island is a popular destination for scuba diving thanks to its striking coral reef and marine ecosystems. Both the Wall and the Aquarium are two great dive sites that boasts an impressive variety of tropical fish, including Sargent mayor, damselfish squirrelfish and stingrays. For visitors staying in Punta Cana, there are weekly trips to Catalina from the mainland [Source].
Altos de Chavon
Altos de Chavón is a re-creation of a Mediterranean style European village located atop the Chavón River in La Romana, Dominican Republic. It is the most popular attraction in the city and hosts a cultural center, an archeological museum, and an amphitheater. The project was conceived by the Italian architect Roberto Copa, and the industrialist Charles Bluhdorn.
The project began in 1976 when the construction of a nearby road and bridge crossing the Chavón River had to be blasted through a mountain of stone. Charles Bludhorn, chairman of Paramount then parent Gulf+Western, had the idea of using the stones to re-create a sixteenth-century style Mediterranean village, similar to some of the architecture found in the historic center of Santo Domingo. Construction was completed in the early 1980s.
Charles Bluhdorn's daughter, Dominique Bluhdorn, is the current president of the Altos de Chavón Cultural Center Foundation. Narrow, cobble-covered alleyways lined with lanterns and shuttered limestone walls yield several good Mediterranean-style restaurants, a number of quaint shops featuring the diverse craftwork of local artisans, and three galleries exhibiting the talents of students from the on-site design school (La Escuela de Diseño, an affiliate of Parsons School of Design in New York City). Notable attendees of the Altos de Chavón Design School have included Lisa Thon and Mía Lourdes Taveras López.
Adding authenticity to the project is the charming St. Stanislaus Church (Iglesia San Estanislao de Cracovia in Spanish) with its plaza and sparkling fountain that is a popular wedding venue. The Church of St Stanislaus was named after the patron saint of Poland in tribute to Pope John Paul II, who visited Santo Domingo in 1979 and left some of the saint's ashes behind. It was in this church that Louis Alphonse, Duke of Anjou married Venezuelan heiress Maria Margarita de Vargas y Santaella on November 6, 2004.
Amphiteater. A Roman-styled 5,000-seat amphitheater hosts 20th century musical acts — The Pet Shop Boys, Frank Sinatra, and Julio Iglesias to name a few — while Génesis nightclub provides a popular dance venue for guests from the Casa de Campo resort nearby. The Regional Museum of Archaeology (El Museo Arqueológico Regional) contains a collection of pre-Columbian Indian artifacts unearthed in the surrounding area. Altos de Chavón overlooks Rio Chavón and the Dye Fore golf course of Casa de Campo; both built by former Gulf+Western chairman Charles Bluhdorn [Source].
Scape Park
Scape Park offers everything from thrilling and adrenaline packed adventures to smooth and cultural experiences: ziplining on a cliff, exploring ancient caverns, swimming in underground caves, jumping from water zip lines and riding in splash hammocks. In addition to all these unique adventures you can also have the option to cruise along stunning beaches, snorkel in tropical waters or just relax in our exclusive beach club. Below is a list of some of the popular attractions in Scape Park.
1. Saltos Azules
Jump from our Mabo rope, soar the skies in Macuya Swing, zip and thrill in monkey bar, ride water hammocks that take you speeding and splashing in these refreshing waters surrounded by ancient caves and impressive waterfalls.
2. Zip Line Eco Splash
Feel the adrenaline and enjoy the sensation of flying through a canopy of trees as you speed through a circuit of twelve zip lines along an amazing cliff, that end with a refreshing water splash.
3. Hoyo Azul
Discover a hidden cenote and enjoy the most impressive turquoise waters nature can offer. This exotic journey will bring you face to face with the Caribbean's amazing eco system.
4. Iguabonita Cave
Meet the wonders that lie beneath the earth! Explore the vast underground network of chambers and tunnels while admiring in awe the extraordinary geological formations this impressive cavern has to offer.
5. Cultural Route
Slip away from the ordinary and enjoy a journey that's packed with entertainment, filled with nature, and bursting with culture! In this nature walk you will be able to see real life replicas of the homes of the ancient Taino Indians, the Spanish conquistadors, the African slaves and the Dominican peasants.
6. Beach Getaway
Discover one of the most gorgeous beaches on the island, private beach club offers first class facilities, impeccable service and relaxing music. Additionally, you can have a wide choice of fun activities to keep busy, like kayaking, paddle boarding and beach volleyball.
7. El Rancho
If you like farm animals, El Rancho is your place to be. Here you will be able to watch and interact with horses, goats, ponies among many other farm animals.
8. Iguanaland
In this wild journey you'll have an up and close encounter with rhinoceros iguanas. A species of reptile that can only be found in this tropical island. Scape Park's handlers are trained to make this experience both fun and educational for the whole family.
9. Parrot Island
They are colorful, friendly and fun to watch. Come and meet exotic parrots.
10. Cave Swim
Dive into this mystical underground spring and live the genuine sensation of swimming in these invigorating waters, previously used by the ancient natives for sacred rituals.
11. Monkey Island
These islands are homes to squirrel and capuchin monkeys. Here they spend the day in a natural and open-air environment. These furry cousins love to jump, climb, play, laugh and more. If you are an animal lover, they will capture your heart [Source].
Indigenous Eyes Ecological Park
The Indigenous Eyes Ecological Park and Reserve is a private protected area owned and operated by the Puntacana Ecological Foundation. Consisting of lowland subtropical forest, the reserve is 1,500 acres of land dedicated to conservation, scientific research, and recreation.
The Ecological Reserve is a forest reserve that has twelve freshwater lagoons, five of which visitors can swim in. Historians discovered that the Taíno Indians, the pre-Columbian inhabitants of the island, referred to the lagoons as "eyes" because of their distinctive shape. For this reason the Ecological Park and Reserve was named, "Ojos Indígenas" or "Indigenous Eyes."
The Ecological Park consists of numerous exhibits describing the cultural and natural history of the island. Visitors can visit a petting zoo with many domesticated animals common in the Dominican Republic since colonial times, a sugarcane exhibit, an iguana habitat and many other attractions. Both the Park and Reserve are open daily from sunup to sundown for guests of the Puntacana Resort and Club and members of the Puntacana community [Source].
Macao Beach
Macao Beach is a public beach located in the province La Altagracia in the east region of the Dominican Republic. It is popular among locals and visitors for its white sands, clear waters and those who seek some adventure since this is a popular destiny for buggy and four wheels riders and surfers. This is one of the only beaches of the Dominican Republic apt for surfing. Macao Beach has a Certificate of Excellence in TripAdvisors and is highly rated by this community. Macao Beach is one of the only beaches in the area not directly surrounded by hotels [Source].
The view from the shore of Macao is of cliffs to the right and clear turquoise waters as far as the eye can see. Back on land, the beach is tan with clusters of coconut palms providing shade. Keep in mind that restrooms won't be found on-site, which is something to consider if you're bringing the kids, or plan to spend all day outside. Macao Beach brings visitors an angelic and serene experience, due to the fact that the surrounding area is far from urbanized.
If you need to grab a bite to eat around midday, you'll have some great cuisine to choose from, so you won't have to wander too far from these sands. One of the closest restaurants is Insomnia. This restaurant features International cuisine. They are also known for their coffee and sandwiches. You and your group can get to this restaurant and start eating in just a few minutes as it's not far off the beach at all [Source].
Bavaro Beach
Bávaro is a tourist area in Punta Cana, located in La Altagracia province, the easternmost province of the Dominican Republic.[1] Bavaro was developed together with the resort area and tourist region of Punta Cana, as a town for resort workers. As hotels started to rise along the east coast, north from Punta Cana, Bavaro itself became a center of services [Source].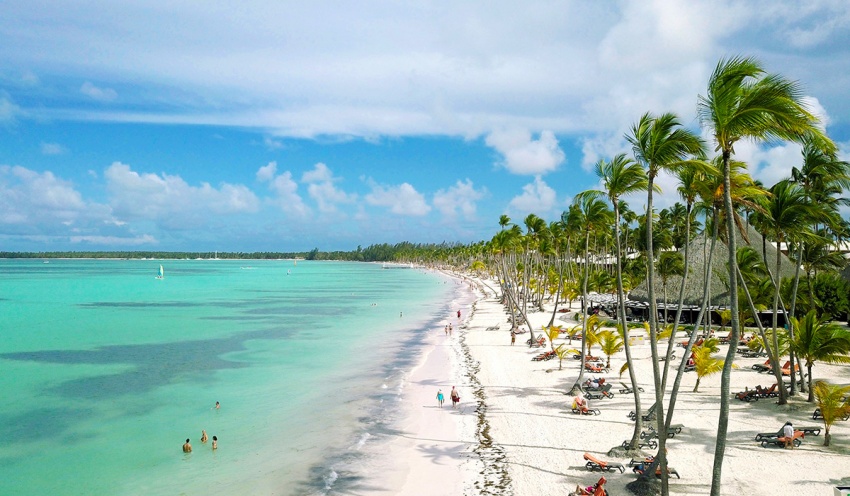 Beach huts and cozy chairs line the crystal-blue shoreline for miles along Bavaro Beach in the Dominican Republic. A hot spot for foreigners, this beach offers everything a traveler can hope for. Hop on a jet ski, kayak through the waves or go on an endless walk on the snow-white sand. The beach is decorated with countless restaurants offering all types of food and drinks to quench your thirst in the hot sun. With consistently warm temperatures and minimal change in water temperature throughout the year, no matter when you vacation to this stunning beach, you will have an incredible time.
Accessing Bavaro Beach in the Dominican Republic is a very easy process. Punta Cana's international airport runs hundreds of international flights each week. Air Canada, AirTransat, American Airlines, British Airways, Continental, Delta and JetBlue are just a few of the popular airlines that fly into Punta Cana from various international travel hubs in the United States and Canada, like Toronto, Vancouver, Calgary, Montreal, New York and Los Angeles. After landing at the airport, Bavaro Beach is just fifteen kilometers away. You can access the beach by taking a taxi or renting your own car [Source].
Capri Beach House
With a stay at Capri Beach House in El Cortecito (Bavaro), you'll be convenient to Cocotal Golf and Country Club and Palma Real Shopping Village. This beach hotel is within close proximity of White Sands Golf Course and Dolphin Island.
Make yourself at home in one of the 9 air-conditioned guestrooms. Complimentary wireless Internet access is available to keep you connected. Private bathrooms with showers feature complimentary toiletries and hair dryers. Conveniences include safes and desks, and housekeeping is provided daily.
Enjoy recreation amenities such as a private beach or take in the view from a terrace. Additional amenities at this hotel include complimentary wireless Internet access, concierge services, and wedding services. Guests can catch a ride to nearby destinations on the area shuttle (surcharge).
Grab a bite to eat at the hotel's restaurant, which features a bar, or stay in and take advantage of room service (during limited hours). Cooked-to-order breakfasts are available daily from 8 AM to 10:30 AM for a fee.
Featured amenities include dry cleaning/laundry services, multilingual staff, and luggage storage. A roundtrip airport shuttle is provided for a surcharge during limited hours, and free self parking is available onsite [Source].
Choco Museo
Located inside the Mundo Auténtico shopping complex, Chocomuseo is a popular spot, in part due to its multitude of chocolate tasting opportunities. This one-stop-shop provides a quick museum-style display and guided tour on the history of Dominican cacao, one of the country's top-four exports, as well as the chocolate-making process from tree to bar.
Along the way, you'll be treated to milk, white, or dark chocolate bars made from the DR's rich cacao pods, followed by tastings of mamajuana concoctions in various flavors. If you have time to spare, sign-up for a hands-on, half-day chocolate making workshop [Source].
Coco Bongo
Party the night away at Punta Cana's legendary Coco Bongo nightclub, where a Vegas-style extravaganza awaits. With unlimited drinks and a four-hour show featuring dancers, performers, acrobats and singers you'll be swept away by Coco Bongo's dazzling night-time atmosphere. There are four options to choose from – Open Bar, Gold Member, Royal Service and Front Row.
The fun starts as soon as you're dropped off at Coco Bongo. Well-known for its glittering performances and music that's sure to keep you on the dancefloor. Once the lights are dimmed, the show truly gets started with glittering confetti falling from the sky and tribute acts taking to the stage bringing the best of Madonna, Michael Jackson and Beyoncé to you.
Dancers re-enact famous scenes from Phantom of the Opera, Chicago and many more Broadway favourites, and acrobats swoop and spin above you. And with an open bar, you'll have free-flowing drinks all night long until it's time to be whisked back to your hotel after a show to remember [Source].
JellyFish
It take just a few minutes to travel down the narrow road once you have arrived it is confirmed that your jouney was worth the effort, because before you know it you are entering a welcoming enviroment framed by small wooden walkaway, crossing over a fish pond, and in a blink of an eye you realize that you have reached Jellyfish.
With its distintive architecture and long track record of providing good service, Jellyfish is Bavaro´s unmistakable beach club, dominated by natural materials, wood, stone and palmthatched roof forming a two-story tropical structure that house, the restaurant and also include a lounge with panoramic view of the entire beach [Source].